E N T E R T A I N M E N T C O M P A N Y
Hereleb was born from love for the arts (music, show business, entertainment, exhibitions/training) and
from the curiosity that nature awakens in us.
The name Hereleb derives from the combination of two Hebrew words, the first one is Herez ( ארץ = land)
and then Leb (לב = heart), its meaning is therefore "THE LAND OF THE HEART".
It is precisely the heart, and therefore love, that has always been the key theme in the field of arts.
The company's mission is to positively impress people and leave them with a sense of enthusiasm and drive
towards that very land where we all want to fly.
"Second star to the right

and then straight on till morning..."
---
Space Adventure is an international travelling exhibition by the United States Space & Rocket Center (NASA's Museum) in Huntsville and Hereleb.
1200sqm between original objects and several stimulators will create a memorable, although short-lived impression of space exploration.
---
Contact with the purity of nature.
Bring the visitor to follow his own dreams,
because it is through them that
the most beautiful artworks come true.
A journey through the most beautiful fairy tales!
---
Bodies exhibition is the one of the largest and most complete exhibition of real human organs and bodies.
Bodies consists of 7 galleries, each dedicated to a human body system, representing a unique opportunity to explore the anatomy of the human body, its structure and its operation.
---
MILLIONS OF YEARS AGO DOMINATED THE WORLD ... AND NOW THEY ARE BACK!
An exhibition of 51 Dinosaurs roaring and moving, as if they were alive, in their natural habitat.
"Living Dinosaur" is a unique, exciting and eventful experience.
---
It's a journey into the history of football and a challenge to your ability to train a team of champions.
It's a global experience able to engage visitors of all kinds, from the teenager who wants to live the experience of the game to the football expert keen on anecdotes who gets excited at the sight of some unique and precious objects.
---
Occupying 1400sqm, Da Vinci Exhibition presents the works of Leonardo like never before. All of Leonardo major works are on display, including brilliant re-creations of his two most famous paintings, the Mona Lisa and the Last Supper. Da Vinci's design come off the page and become life-size dimensional machine for you to explore and experience.
Beatrice Giliberti (born in Rome on 26th September 2001), aka BEO, is an Italian artist, singer and songwriter. She caught people' s attention thanks to her appearance on X Factor 2019 edition and to several videoclips of her own songs and covers posted on social networks.
Born to an Italian father and a Hungarian mother, Beo showed a passion for music from an early age, thanks also to her parents' amateur guitar and cello playing. Already in middle school she began composing her first songs, accompanying herself on the guitar. For her high school education, she chose the Liceo Musicale Farnesina in Rome, where she also studied piano and graduated in 2019.
She is currently attending the two-year advanced training workshop, in the Song section, of the Officina delle Arti Pasolini in Rome directed by Tosca.
She is registered with the Italian Society of Authors and Publishers (SIAE) as a melodist composer and author of the literary part.
She is emotionally and artistically involved with Lorenzo Rinaldi, who is also a young up-and-comer on the Italian songwriting scene.
She has composed over 20 songs in English and Italian in the last 6 years of activity. She has performed extensively in venues in Rome, Puglia and Umbria.
In 2019, she was invited to participate in the X-Factor selections, passing the auditions, Bootcamp and making it all the way to the Home Visit which took place in Berlin.
The musical influences that have shaped Beo's style come mainly from American country pop.In her compositions and choice of covers, she was inspired at a very early stage both by the classics of the US folk scene such as Joan Baez, and by more contemporary singer-songwriters. Her education, like her musical passions, is the result of an all-round listening experience that spans time and genres, stretching from the Beatles and Bob Dylan to classic Italian singer-songwriters such as De Gregori and Battiato, to the indie pop of Twenty One Pilots or the rock of the Arctic Monkeys.
With her distinctive vocal timbre and very personal writing style, she has remarkable skills in harmonic arrangements, which allow her to create some impressive choral recordings and harmonisations to back up the lead vocals.
Because of her skills and features the Hereleb agency decided to sign her and introduced her to Music Media One in Copenhagen, a production company with which Beo is working on an album for the northern European market.
Yuman was born 23 years ago, from an italian mother and a Cape-
Vert father. He is the eldest of three siblings and his life, already quite challenging, had soon put him in front of a deep pain that led him to a sudden growth. Yuman reacted to sadness using music as a shelter; a wunderkammer, a powerfull place of comfort against the grief he's facing kept hidden for a long time. He then decided to open this "room" and explore its contents, making of music his life.
In 2005 he took a sabbatical from work and travelled around Europe: after spending some months in London he moves to Berlin, where, during his various musical wanderings, he met the talented multi-
instrumentalist and artistic producer Francesco Cataldo, who also moved there for a while. A strong friendship and professional esteem bloomed from this meeting that leading them to collaborate and produce brand new four-
handed tracks sung by Yuman himself.
First demos are so powerful they are enough to get to the attention of the producer Alberto Quartana, head of Leave Music, in Berlin to complete an already existing collaboration with Francesco Cataldo.

Back to Italy Yuman signs a contract with Leave, who obtained a license agreement with Universal Music, enthusiast to become a partner of this international project he is producing.

After months of hard work and effort the project is seeing the light in late 2018 with the release of the first single TWELVE.
A comedy show about issues related to new technology addiction and which, without demonizing it, aims to raise awareness for a smarter use of network-connected devices.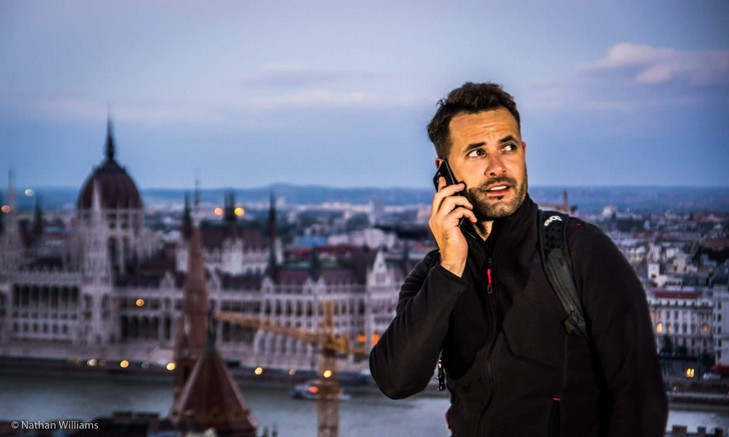 Giorgio Castagnera
He started his career in 1999 in the company called "Teatro delle Erbe
"
based in Milan, organizing major musicals such as FAME, WEST SIDE STORY, PETER PAN, GREASE, DIRTY DANCING, CHRISTMAS SHOW. He co-produced the Musical based on QUEEN's music WE WILL ROCK YOU organizing the Italian Tour from 2009 until 2012.
He has been in the organization of many concerts and festivals with the most prestigious music artists such as BRUCE SPRINGSTEEN, AC DC, FOO FIGHTERS, ROBERT PLANT, ALICE COOPER, METALLICA, LAURA PAUSINI, EROS RAMAZZOTTI, EDOARDO BENNATO, ALESSANDRO MANNARINO, PAUL MC CARTNEY, PAUL SIMON, BON JOVI, THE CURE, KISS, JUDAS PRIEST, OZZY, QUEEN, PRIMUS, ZZ TOP, JAMES BLUNT, JOVANNOTTI, DEEP PURPLE, LENNY KRAVITZ, KYLIE MINOGUE, MACKLEMORE & RYAN LEWIS and many more. Since 2010 is one member of ZUCCHERO's production staff.
In 2014 Began a collaboration with FAIRWOOD Music Group that is an established and highly respected independent music publisher. Formed in London in 1987, over the years had the privilege to represent such iconic artist and writers ad David Bowie, U2, Cat Stevens, Bob Marley among many others.
In 2006 he's been the onsite head operation during the Winter Olympics in Turin 2006.
In
2009, he began his career with the touring exhibitions, organizing the most prestigious in Italy such as DAYS OF THE DINOSAURS (Rome, Turin,
Milan), BODY WORLDS (Milan, Rome), ART OF THE BRICK, VAN GOGH ALIVE, BOWIE IS and many more.
In 2014, he opened the company called DOCA World Exhibitions LTD with which he has produced:
- GATEWAY TO SPACE in collaboration with the US SPACE ROCKET & CENTER ( NASA MARSHALL SPACE FLIGHT CENTER) presented in Italy, Denmark, Czech Republic, Belgium, Hungary, South Africa, Poland;




- NAPOLEON BONAPARTE in coolaboration with Fondation Napoleon & Les Invalides presented in Brazil, Australia, Kazakhstan, Italy;




- REAL BODIES presented in Poland, Portugal, Italy and Germany.



Since 2012 he is an honorary member of the Touring Exhibition Meeting produced by Semmel Concert.